Don't undervalue the significance of good kitchen design. Your kitchen could be the heart of your office if correctly designed.
We've all worked in a place where the kitchen was a disaster. It can irritate you and make you resentful. The good news is that creating a functional and pleasing-to-the-eye kitchen is simple.
It is not necessary to have an open floor plan for everything.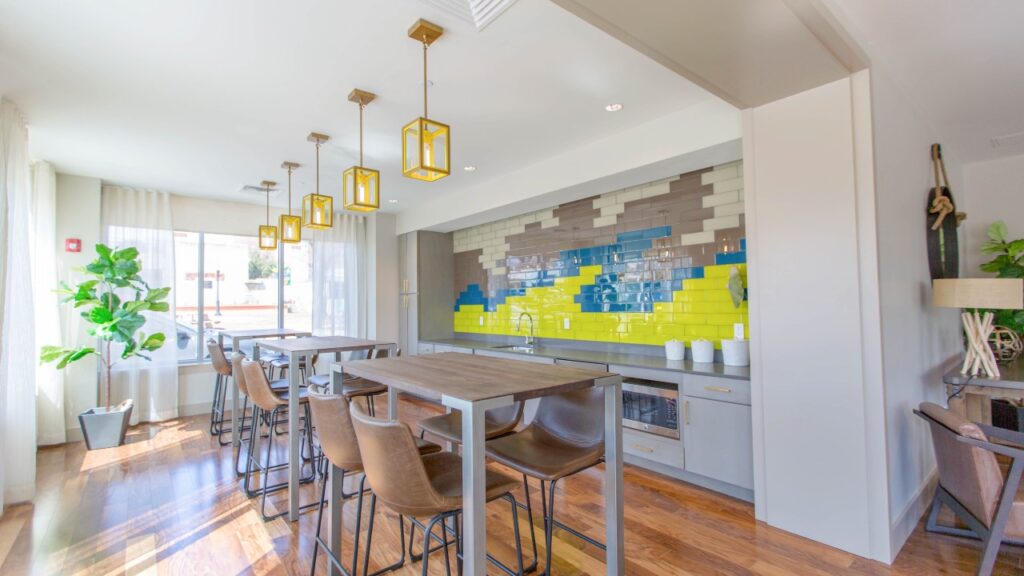 Have you ever paid attention to how much heat and steam the dishwasher produces? Or how soon the stench of burnt toast pervades the nearby office? It's impossible to treat the kitchen in the same way as the rest of the office.
Keep in mind that stale air causes more than just inconvenience for employees; it also implies they aren't getting enough oxygen to be attentive. You simply need the appropriate number of vents for the space and equipment inside it.
It is best to design a kitchen that is separate from the main breakout lunch area. This allows employees to organise, prepare, cut, and store their lunches away from the open office. You can also create a distinct aesthetic identity in a separate place.
Many businesses want a kitchenette at one end of an open-plan office. My recommendation is to use the smaller kitchenettes as tea stations, with a larger purpose-built kitchen located elsewhere in the building.
Make It Hard-Wearing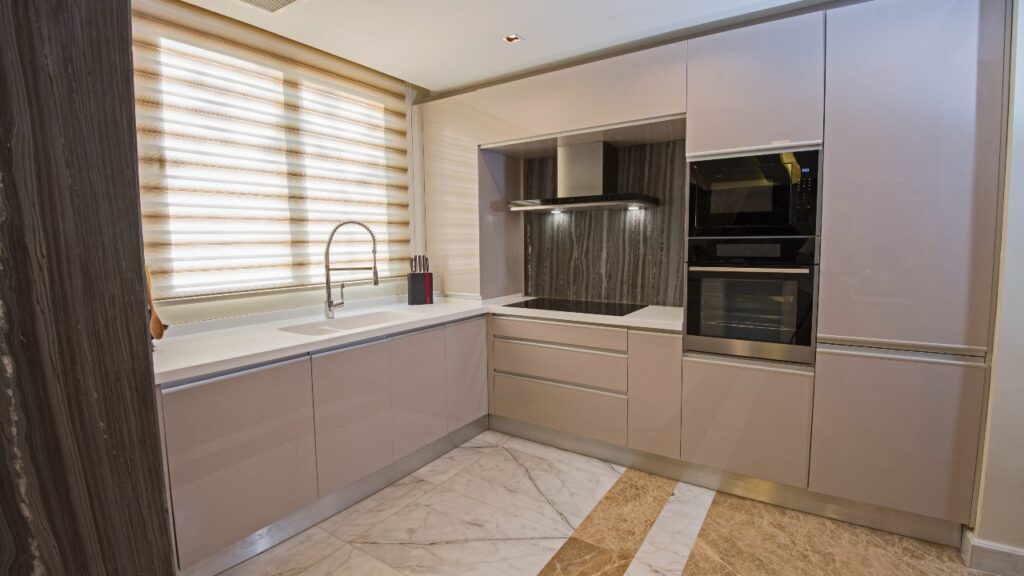 Don't scrimp on the quality of your work. Hardwearing, easy-to-clean, and stain-resistant surfaces may be costly at first, but they'll save you money in the long term. Don't be lured by domestic kitchen fixtures and fittings; you'll need catering quality to ensure longevity. Your family is a fraction of the size of your team!
For an excellent example of a functional yet creative catering-style workplace kitchen, my recommendation is to go with granite flooring. On top of being durable, caring for granite is easy.
Give the Design a Purpose
Cereal boxes stacked high, condiments piled high on the fridge door, and tea canisters piled high on the counter. It's time to get back to fundamentals in your kitchen if it's lost its way. Don't get so caught up in the bright splashbacks and fashionable metro tiles that you overlook the need for functional storage and food prep places.
Make sure you have enough storage space, not just for china and silverware, but also for personal food products. Use accessible drawers or storage boxes to keep counters as clutter-free as feasible. These should be wipeable and easy to clean.
Appliances should also be kept on bigger counters so they don't get in the way of individuals cooking meals. Finally, instead of a kettle, add a quick hot/cold Zip tap. This was something we performed in our own office, and it was a lifesaver for large tea rounds!
By giving every room in your office a purpose, you will make it easier for everyone to achieve their goals.
The (Loud) Lunch Club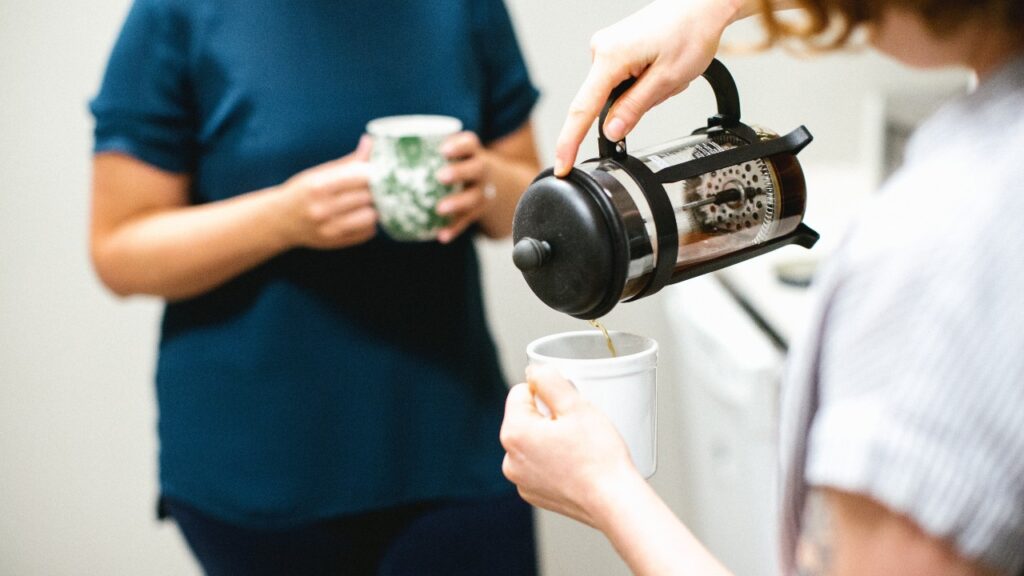 Kitchens are natural gathering spots, whether you're chatting over lunch or a cup of tea. By using walls to establish a physical boundary, even glass walls, your design and fit out can limit noise from travelling around the office.
Your furniture selections can also help. Dining booths with high backs and noise-absorbing fabric can be really beneficial. Another design idea that can help keep distractions to a minimum is to place your kitchen away from contemplative places.
Establish the Ground Rules
To guarantee that your kitchen design and layout works for everyone, make sure that employees are aware of their responsibilities.
Will you toss out any leftovers in the fridge on Friday afternoons? Is it necessary for staff to load the dishwasher as they go? Is it necessary to use a microwave food cover? Will you have a daytime cleaning schedule, and what can your employees do to assist you?
All common places need a communal rule book that is delivered in a courteous manner—without being a damp dishtowel. Don't be forceful; your employees are adults with good sense.
Instead, make sure that everyone may enjoy the place equally. Include the regulations (or should we say recommendations) for utilizing the kitchen in your new employee starter packets. They'll feel at ease and at home in their new breakout place because they'll be given all the information upfront.
Allow Light to Shine
Kitchens, without a doubt, require enough illumination. Install lighting that is bright enough to view what people are chopping but not so bright that it causes eye strain.
We used down lighting to give our kitchen a more homey vibe. It is becoming increasingly popular in office design. Ambient lighting, such as these under-cabinet lights, is increasingly common in many of our settings, but you may also use spotlighting or even under-cabinet bulbs.
Even if your kitchen is naturally well-lit, you'll need to install brighter lights in the winter months to keep it from becoming dark.
Room for Everyone
A crowded kitchen is a miserable kitchen. Allow adequate room for your staff to dine and relax without feeling pressured by other people who are using the place.
To prevent the gloomy school lunchroom image, mix up different tables and seating spaces. Dining rooms, café-style tables, and long benches may be seen in some of our favourite kitchens. This is exactly what we did for an office kitchen in one of our branches and the result is a vibrant atrium kitchen with unique furniture that looks beautiful… and works!
There you have it, everything you need for a perfect office kitchen. While some of these tips require more funds than others, rest assured that they will result in a happier workplace.
Check out our post on whether shredding paper is necessary and our guide to promoting online events.